This page contains a complete list of free inmate locator directory links to all of the counties and most cities in California. The arrest, bail and court information contained on each independent site will vary depending the arresting agency. Some counties will limit arrest information that is available to the public for privacy concerns. Please note that not all counties provide online arrest and inmate information.
If you cannot find what you are looking for, call us today: 949-445-3420 and we will be happy to assist you. We can provide free bail price quotes, payment options, bail amounts, charges, and court information for most inmates in California. 
*Clicking on these links takes you outside the site. Advertising on these outside sites are in no associattion with Mr. Nice Guy Bail Bonds.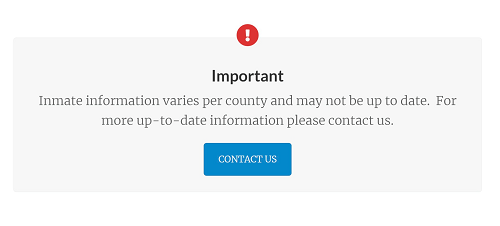 Alameda County Jail Inmate Locator
Calaveras County Inmate Search
Clark County, Nevada Inmate Search
Contra Costa County Inmate Locator
El Dorado County Jail Inmate Locator
Fresno County Jail Inmate Info Center
Huntington Beach arrest records
Kings County Jail Inmate Locator
Los Angeles County Jail Inmate Search
Nevada County Jail Inmate Locator
Placer County Jail In-Custody Report
Riverside County Jail Inmate Information System
Sacramento County Inmate Locator
San Diego County Jail Inmate Log
Santa Barbara County Inmate Search
Tehama County Jail Current Inmate Listing
Tuolumne County Inmate information
Yuba County Jail Inmate System
*Search statewide for California inmates.
**Locate a federal inmate.
***Use this page to locate a detainee who is currently in ICE custody. https://locator.ice.gov/